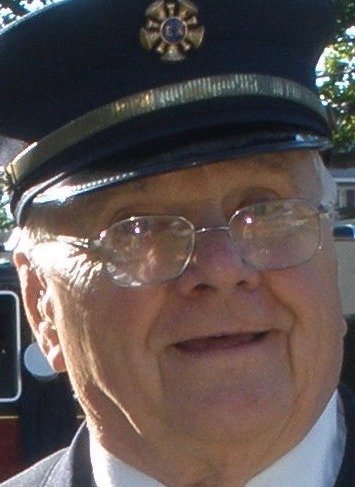 Obituary of Albert Knaub
Albert S. Knaub, age 90, of Ridgefield Park, NJ passed away on June 29, 2018. He was born July 24, 1927 in Hudson County to Albert and Martha (Nicolini) Knaub. He is predeceased by his sister Elaine, brother Louis and son-in-law Dieter.
Al is survived by his wife of 71 years, Johanna; children, Gail and Albert "Sonny" (Fran); grandsons, Eric (Jennifer), David, Daniel, Darren (Giselle), and Peter (Donna); granddaughter, Kristy (Brendan); great-grandsons Nicholas, Justin, Nicolas, Gavin and Gabriel; sisters, Katherine and Adele (Bob); and numerous nieces and nephews.
He was a veteran of World War II, serving in the US Navy. Al was also a retired businessman, a 65-year member and ex-chief of the Ridgefield Park Volunteer Fire Department, Past District Governor (District 16A) of Lions Clubs International and co-founder of the Ridgefield Park Lions, and a member of Ridgefield Park's Veterans of Foreign Wars, American Legion, Rotary, Elks, and the Knights of Columbus.
Viewing will be held Saturday, July 7, 2018 from 8:30-11:00 AM at Vorhees Ingwersen Funeral Home, 59 Main St., Ridgefield Park. Funeral Mass will follow at 11:30 AM, St. Francis Church, 114 Mt. Vernon St., Ridgefield Park. Cremation will be private. In lieu of flowers, donations to the New Jersey Firemen's Home, Boonton, NJ are appreciated.