Vorhees-Ingwersen History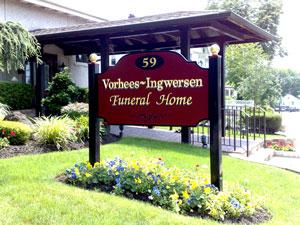 Vorhees Funeral Home was established in 1943 by Earl J. Vorhees. Donald W. Vorhees and Loretta F. Vorhees purchased the funeral home in 1968.
Donald J. Ingwersen began his career at Vorhees funeral home in 1993 while attending AAMI (American Academy McAllister Institute) of Funeral Services in New York City . Donald continued his employment with Vorhees for several years after graduating from AAMI and purchased the funeral Home in 2005. In 2008, the name was changed to Vorhees-Ingwersen Funeral Home to reflect the acquisition.
Donald is a Member of the Passaic County Funeral Directors Association, was past president from 2009 - 2011 and is currently the treasurer. He is a member of the 200 Club of Bergen County, the Ridgefield Park/Bogota Rotary Club, the Ridgefield Park Elks Lodge 1506, and is actively involved in numerous other community affairs. He is a parishioner of St. Francis RC Church, is a member of its Holy Name Society, and an usher during Sunday Mass services.

Vorhees-Ingwersen Funeral Home is a proud sponsor of Ridgefield Park's youth athletic teams, civic organizations and myriad community events.