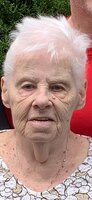 Delores Beam
Delores Beam (nee Foelsch), 86, of Bogota, passed away peacefully surrounded by her loving family on Tuesday, May 9, 2023. She was the beloved wife of the late Robert Beam. Delores was the endeared sister of Margaret Foelsch. The greatest joy in her life were her cherished nieces and nephews, Richard Foelsch (Glenda), Susan Yannotti (Ricky), Robert Foelsch (Nancy), and Linda Currie (Darren Kent), and great nieces and nephews, Danielle, Chris, Ryan, Shelby, Morgan, Shaun, Kristen, Kevin & Lilliana.
Delores was born to Mary Josephine (nee Reilly) and George James Foelsch in Bronx, New York. She worked as a Financial Manager at Bank Note in New York. One of the most important roles in Delores's life was being an aunt and great aunt to her adoring nieces and nephews. She loved spending time laughing with family and friends. She will be sadly missed by all who knew her.
Visitation will be held on Monday, May 15, 2023 beginning at 5 PM and concluding at 8PM and Tuesday morning 9AM to 9:30AM. Funeral Mass will be held on Tuesday, May 16, 2023 at St. Joseph R.C. Church, 10 AM. Interment to follow at Calvary Cemetery, Queens, NY.