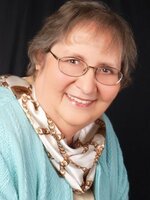 Lillian Avis Webster
Lillian Avis Webster (nee Barry), 83, of Ridgefield Park (formerly of Dixfield, Maine), passed away peacefully surrounded by her loving family on Tuesday, April 25, 2023. She was the devoted mother of Stephanie Webster and her husband Frank Cano. The greatest joys in her life were her cherished granddaughter Elycia and her "adopted" grandchildren Kayleen, Richie, and Izzy. Lillian was born in Rumford, Maine to Merna (nee Hammond) and Roscoe Barry. She attended nursing school in Boston and graduated to become a nurse for over 40 years. Lillian served her patients with dignity, respect, and compassion always. Through her giving spirit and desire to help people whatever their needs, she touched so many lives both as a nurse and in life as a girl scout leader, mother, daughter, sister and friend. Lillian enjoyed DIY projects and arts and crafts as well as watching political shows, reading spy novels, researching genealogy and studying Native American history and music. Most important to her was spending quality time and keeping in touch with her family, including her surviving brother Carlton Barry. She will be sadly missed by all who knew her.
Visitation will be held on Saturday, April 29, 2023 beginning at 12 PM and concluding at 2 PM. She will be laid to rest at Demerrit Cemetery in Peru, Maine.