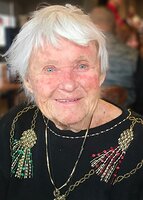 Ella H. Bombacigno
Ella Margaret (Peggy) Bombacigno, age 92 of Barnegat, NJ passed away peacefully with family close by on Friday, December 23, 2022. Predeceased by her husband, Onofrio Joseph Bombacigno, her sisters, Aileen, Joan, Constance and Francis and her parents, Elsie and Gilbert Heath. She is survived by her two daughters and their husbands, Joanne and Fran Dungo and Linda and Martin Lowenthal, and her four grandchildren, Nicholas and Justine Dungo, Rachel and Tyler Lowenthal and other extended family.
In addition to spending the last 30 years as a resident of Barnegat, Ella was born in Teaneck, NJ and raised in Ridgefield Park, NJ where she met her husband and raised her daughters. Ella faithfully worked as a telephone operator for the Bell Atlantic phone company until her retirement.
In her years, Ella found joy in everything she did. She especially loved camping with her family and visiting Vermont to watch the leaves change colors. Fond of her routines and English heritage, she never missed the 3pm mark for tea and cookies. Peggy was a dedicated sports fan and loyal to her favorite teams, the Yankees and Giants. She also made it a point to try every flavor front to bake (twice) at Mrs. Walker's ice cream. Ella loved feeling the sun on her skin with a good book and a word search nearby.
Ella was a beautiful person inside and out. Her unconditional love and kindness expanded to everyone she met; she will be missed by many and will live forever in our hearts.
Services will be held at Vorhees Ingwersen Funeral Home in Ridgefield Park on Monday December 26th for 2-5pm. If you wish to show your appreciation and love, please send donations in her honor to the "Alzheimer's of New Jersey" 425 Eagle Rock Ave. Suite 203 Roseland, NJ 07068.