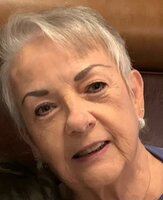 Nora Poli
Nora Collis Poli, 74, of Ridgefield Park died June 22. She was born and raised in Teaneck NJ, daughter of Rosetta and Harry Collis. She worked as controller retiring from Acme Rolling Steal Door. Always a Jersey girl at heart living in the state her whole life.
Nora was always ready to share a laugh and plan a day's outing around lunch. She loved the Jersey Shore and several years ago began living her dream of having a second home down the Shore. She took great pleasure in being on that Parkway and smelling the ocean air.
Nora leaves behind her husband John Poli, and daughter Nora Poli, son-in-law Alex, and grandsons Dillon and Collin Poli of Cedar Grove, NJ. She was the beloved big sister of Harry Collis (Patricia), Edmund Collis (Kathleen), Janet Bravo (Agustin) as well as sister-in-law to Ralph Marana. She was predeceased by her sister Peggy Marana and brother Michael Collis. She adored being the aunt to many nieces and nephews and took great pride in the role(s) she played within her large family throughout the years.
Her legacy will live on in the hearts and minds of everyone she interacted with as she was always a pleasure to be with and the bright spot of the day for those who knew her best.
Visitation will be held at Vorhees Ingwersen Funeral Home 59 Main Street, Ridgefield Park on Saturday, June 25th from 1PM to 5PM with a funeral service at 4:30PM. Cremation is private.