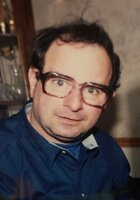 Stuart P. "Stu" Karavitis
Stuart "Stu" Karavitis, 77, of Dumont, New Jersey, passed away on Tuesday, December 7, 2021.
Stuart was a proud veteran who served in the United States Navy from 1961-1967. Member of the American Legion Post 128 of Teaneck, NJ. He worked as an air conditioning technician for Carrier in New York City, NY for 41 years. Hobbies included working on his 1955 Oldsmobiles, and being a member of the Restored Rusty Relics Car Club in Paramus, NJ.
Stuart is survived by his beautiful wife, MaryJane, two children, Scott Karavitis and his wife Kristen of Little Ferry, NJ; two grandchildren, Olivia and Andrew Karavitis, and daughter Stacey Karavitis of Dumont, NJ; three grandchildren, Ian, Angelina, and Katarina Kellgren, his brother Stephen and his wife Rosie Karavitis of Wood-Ridge, NJ, along with nieces and nephews Karen, Casey, Jennifer, Gerard, and Michael. He was preceded in death by his parents, Calliope and Peter Karavitis, and his sister, Pamela MacLaren.
Memorial service for Stuart Karavitis will be held from 3-7 p.m., Saturday, January 15, 2022 at Vorhees-Ingwersen Funeral Home, 59 Main St., Ridgefield Park, NJ, 07660. In lieu of flowers, memorial donations may be sent to the Little Ferry Hose Company #1, Little Ferry, NJ.