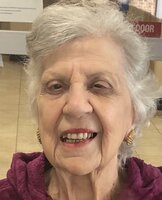 Fanny Nicholson
Fanny Nicholson, age 87, died peacefully on October 13, 2021 surrounded by her loving family.

Fanny grew up and lived in Jersey City. She worked at Western Electric and at various companies in Jersey City where she was a professional bookkeeper. She loved to tap dance and took many lessons to enhance her dance skills. She was quick-minded and had a wonderful sense of humor.

Throughout Fanny's life, she was an independent and confident women. She lived much of her adult life with her sister and best friend, Victoria (Vickie) and together they set an example of how important it is for women to choose their own paths in life.

Fanny was the sixth of nine children born to Victoria Nicholson (nee Kelelis) and Peter Pertsoulis Nicholson, who predeceased her. She leaves a brother, William (Bill) Nicholson and his wife Irene, her niece Diane Romano Fennimore, nephews Thomas (Tom) Nicholson and his wife Anne and Nicholas (Nick) Luzzi and his wife Joanne, a sister Penelope (Penny) Nicholson Scerbo. She was also predeceased by her sisters Daisy Nicholson Romano, Victoria (Vickie) Nicholson Guthrie, Constance (Connie) Nicholson Luzzi and brothers Harry Nicholson, Daniel (Danny) Nicholson, and Thomas (Tom) Nicholson.

Fanny was a resident of Hudsonview Care and Rehabilitation Center in North Bergen.

A prayer service will be held at Vorhees-Ingwerson Funeral Home at 9 am on November 6, 2021, followed by a service at 10 am at George Washington Memorial Park in Paramus where she will be interred in a family plot.