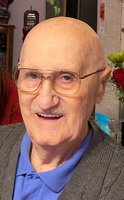 John Holler
John Holler, 85, of Effort, Pennsylvania, passed away surrounded by his family on Wednesday, April 22, 2020. Before retiring, he was a resident of Ridgefield Park, NJ for 45 years.
John was predeceased by his wife of 54 years, Evelyne, in 2014. Loving father of Denise Seitter and her husband Robert, Donna Kenny and her husband Patrick, Diane Walsh and Debra Visconti and her husband Thomas. Cherished grandfather of Kimberly Schwind, Jacqueline Seitter, Brendan and Aiden Kenny, John and Kenneth Kochanowski, and Rocco and Joseph Visconti. Loving owner to his constant companion, his dog Branson.
John was a lifelong technology enthusiast. He was trained in electronics and communications while serving in the United States Army and embarked on a nearly 40-year career with New Jersey Bell, then later AT&T Communications, where he worked as a Field Engineer during the infancy of computerized telecommunications. He worked for the Village of Ridgefield Park for numerous years, installing and maintaining communication equipment for the Police and Fire Departments. He served on the Ridgefield Park Volunteer Fire Department (Hose 3) for over twenty years. He spent his free time building, repairing and programming computers and electronics and was always willing to share his knowledge and expertise. John was always available to help his family or friends with household projects and volunteered at church activities.
A special thank you to the people of ­­­­Arcadia Hospice in Effort, PA for their loving care and support during his final days.
Cremation is private. The memorial service will be held on Saturday, April 17, 2021 from 12 to 2PM at Vorhees Ingwersen Funeral Home. Donations can be made in his name to his favorite charities: St. Jude Children's Research Hospital or the Salvation Army.