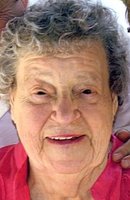 Thelma Ethel Dublanica
~~Thelma Ethel (Carpenter) Dublanica, of Norton Mass (formerly of Ridgefield Park). passed away peacefully on September 17, 2017 at the age of 92.
Thelma was born September 21 1924 in Scunthorpe Lincolnshire England to Christopher and Ethel Carpenter. She enlisted in the British Army at the age of 17 and rose to the rank of gunnery sergeant, serving during the London blitz.
In 1944 she married Peter Dublanica, and settled in Ridgefield Park, NJ, where they lived in the house her husband built. She also resided in Newtown Grant PA and Norton, MA. Her beloved husband Peter died in 1963. Thelma is survived by 4 children, Patricia Miller of Little Ferry, NJ, Lynn Gordon (spouse Scott) of Yardley PA, Peter (spouse Wendy) of Zihuatenajo Mexico, and Keith (spouse Alice Lind) of Olympia WA. Thelma had 7 grandchildren and 13 great-grandchildren. She is also survived by her sister Mavis, and 4 nieces, who all reside in England. Visitation is Wednesday 9/20/17 4pm-8pm at Vorhees Ingwersen Funeral Home 59 Main St, Ridgefield Park. A Catholic mass will be offered Thursday 9/21 11am at St Francis Church , 114 Mt Vernon St, Ridgefield Park, with interment following in St Michaels Cemetery South Hackensack. In lieu of flowers, donations to the CSF-Dollars for Scholars, P.O. Box 23 Mansfield Mass. 02048. Donations payable to "Lorraine Dublanica Memorial Fund" are encouraged. The "Sarge" was a jewel.